Before you decide to sign up for a kitesurfing course, we recommend that you read this article.
There are actually two factors decisive for success in learning to kitesurf: 1) instructor's qualifications and 2) training frequency.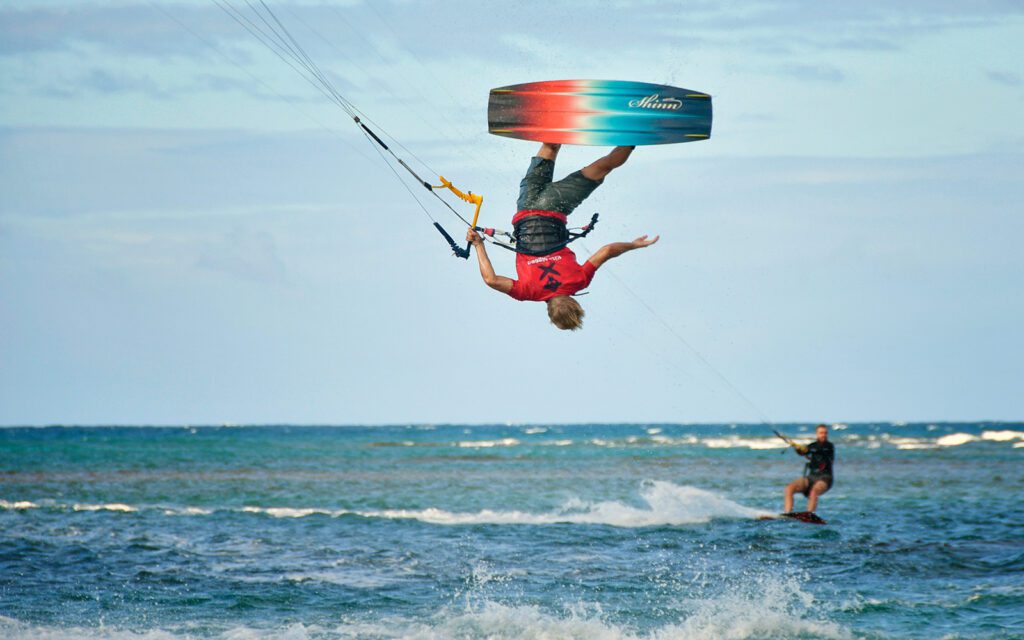 You're reading "Kitesurfing courses Las Terrenas". Scroll down for more.
The type of spot or the school you choose are of secondary importance. Of course a good school should be distinguished by the qualifications of the employed staff and owned equipment. However the instructors are often young people (18-28 years old) who treat this job more as a seasonal adventure than a profession. There is a common joke: "What makes a kite instructor different from a student? – 10 hours! ". That is why we recommend asking what experience your coach has before you will sign up. BTW – as technically it's a bit complex sport we hardly recommend to learn it in a language that you and your instructor know fluently. This is about your safety and paste of progression.
Now let's move on to the frequency of training, which depends primarily on the number of windy days during your course. The best trainer on the best spot will teach you nothing if there is no wind, right? Therefore the second thing you need to check are wind statistics during the planned training.
How long does it really takes to learn kitesurfing
To learn the basics of kitesurfing you need an average of 12-14 hours of training.
Daily you can do from 1,5 to 3 hours. So the smallest amount of time needed to master the basics of a kitesurfing is 4 days (if you have talent and you do 3 hours of classes a day). However, on average you will need 5 to 6 days!
Let's count on – you will most likely do the course during your one-week (7 days) vacation. So you will have maximum 6 days for trainings (1 day is off for transfers). Six days, which is exactly as much as we calculated that it takes on average to master the basics of kitesurfing. This means that during your stay the wind has to blow daily! Unfortunately there are very few places with such statistics in the world. 


Therefore, when deciding where and when to do training, remember these 3 scenarios:
statistics up to 50%

– go if you like hazard but forget about mastering kitesurfing.

statistics 50-75%

– there is a chance that you will do your first tacks.

stats 75-100%

– welcome to Kite Mecca!
To check when and where the winds blows I recommend to read this article -> KITESURFING – THE BEST DESTINATIONS .
Why Kite Mecca is the best place to learn kitesurfing
I think that what we wrote above already gives you an idea of ​​the standards and ethics of our business (this fit 'culito' is just a randomly selected photo). However, as we emphasize it is not ethic that decide about your success in kitesurfing but the amount of wind and the instructor's qualifications. So it's time for specific information on why Kite Mecca is the best places to learn kitesurfing in the world.
I. WIND STATISTICS – You won't find Dominican Republic in the lists of destinations with high wind statistics because it do not take into account "special wind effects". In fact in certain regions of the Dominican Republic the wind blows more than 300 days a year! Please check THIS LINK to see real data from the wind station on our spot. Now I will only leave you with the information that in the first year of meteo station activity we had 9 months with 70-100% wind coverage. In it was 5 months with the statistics of 90-100%! This makes our spot one of the absolute tops in the world.
II. OUR TEAM – quality is our absolut top priority. As the first school in the world we introduce the option to choose the standard of your lesson based on the experience and qualifications of the instructor. In the basic Gold Standard class, we provide a trainer with min. 3 years of practice. You can find out more about this on the KITESURFING COURSES FOR BEGINNERS . 
III. CLIENTS REVIEWS – Lucas, Chief Pirate in Kite Mecca is on the kitesurfing scene since year 2000 and says that never on any other spot the student's success ratio wasn't that high as here. All our customers are giving us 5 stars reviews in Google. Our mission is to keep it like this forever.