KITESURFING COURSES FOR BEGINNERS
Aloha! Welcome to Kite Mecca, we are a 5 stars kitesurfing school in Las Terrenas (by Google).
Kitesurfing Courses for Beginners is the page where we have put all information about this what we love to do – teaching kitesurfing. You will find here information about Kite Mecca advantages, about how the training is carried out and how much it all costs.
And if you're interested in more advanced trainings please click the banner below.
Las Terrenas -the best place in Dominican Rep. to do kitesurfing courses for beginners
If you are considering to sign up for a kitesurfing lessons please check this page to learn important information about what you should know before you decide to book a kite course. It should also give you an idea of ​​the philosophy and the standards our school follows. Please read it first if you don't want to loose your time and money. Those days there's a lot of businesses that don't really bother about your progression, safety and satisfaction.
12 reasons why
Kite Mecca is one of the best places in the world to learn kitesurfing
5 stars service
We love our work and are dedicated to it fully. Maybe it's why we receive just 5 stars reviews in Google. Below are few of reviews – for more check on our Google site.
Wind almost every day
One of the decisive factors in your success in learning to kitesurf is the wind coverage. If you will have 50% or less windy days during the course the chances of completing it with success  are very small. In Las Terrenas we have as many as 9 months with the statistics above 70% , of which 5 months the wind blows more than 90% of the days a month. There are really a very few places with such exposure to the wind in the world. Behind our words stands specific data that you can check on the WIND STATISTICS page.
Dedicated training methodology
Our school is run by a person with extraordinary experience. Lucas has been actively doing kitesurfing since 2000. He trained on several continents in all type of conditions. As the only person in Poland he participated in the international training of sitkiting instructors (kitesurfing for people in wheelchairs). To this day he works actively as an instructor as he loves this job. Kite Pirates is a methodical system that has been prepared especially for the conditions prevailing here. 
Stable wind
The kite compared to other wings has quite a different shape and thus is sensible for wind quality. One of the most important skill that you acheive during the course is to feel the kite on the stearing bar. Stable wind let you get that feeling much faster and in a more intuitive way.
Radio connection with the students
The noise of wind and water makes voice virtually inaudible when you move away from your instructor for just a few meters. Kite Mecca is the only school in Las Terrenas that is using a walkie talkie. Thanks to which the student hears the commands and advices of his trainer all the time. This not only ensures much faster progress but also improves safety a lot.
Instructors of different classes
As you read on further, Kite Mecca is (probably) the first kite school where instructors are divided into 3 classes depending on their experience: Gold Standard, Premium Class and League of Legends. Find out more HERE.
Carefully selected equipment
Every little piece of our equipment has been carefully selected and tested to choose the tools that will make your trainings safe and enjoyable experience and to speed up your progress. There's no other school here that can compete with us (all our equipment comes from TRAVEL ON BOARD SHOP that we highly recommend). 
Only 1 on 1 classes
Many kite schools offer group classes in order to 'optically' lower the price. From our experience such activities are ultimately more expensive, boring, spoil the quality and sometimes are even dangerous. In Kite Mecca all beginners lessons are done in 1 on 1 system (one student, one instructor).
A variety of conditions
The coastline in Las Terrenas is very diverse and is over 15 km long. As a result places with very different conditions were created in this area in a natural way. There are lagoons with flat water, bays with deep water and waves, various types of sandy headlands and beaches with winds blowing from very different directions. Therefore, we conduct individual phases of training in the best-suited places. This will ensure you acquire the full range of skills necessary to be an independent and versatile kitesurfer.
Summer all year round
In Las Terrenas summer lasts 12 months a year! The difference in average daily temperatures between the extreme months is only … 4 degrees Celsius! and ranges from 27 January to 31 September. The water temperatures, in turn, oscillate between 25 and 30 degrees C. All this means that you learn in a very comfortable environment  without the need to use neoprene wetsuits. You can find all detailed information about the weather in any specific month on THIS PAGE.
No dangerous animals in the water
Most exotic destinations have also very exotic (and sometimes dangerous) flora and fauna. Stinging jellyfish, painful needles of sea urchins or various nasty bacteria and amoebas … we won't mention sharks and stingrays.  This type of "zoo" in Las Terrenas is very hard to find.
Lovely views and nature
This element probably does not affect the speed of your progress during the course, but! absolutely heavenly views, turtles, stunning sunsets and surroundings are definitely the cherry on top of our kitesurfing pie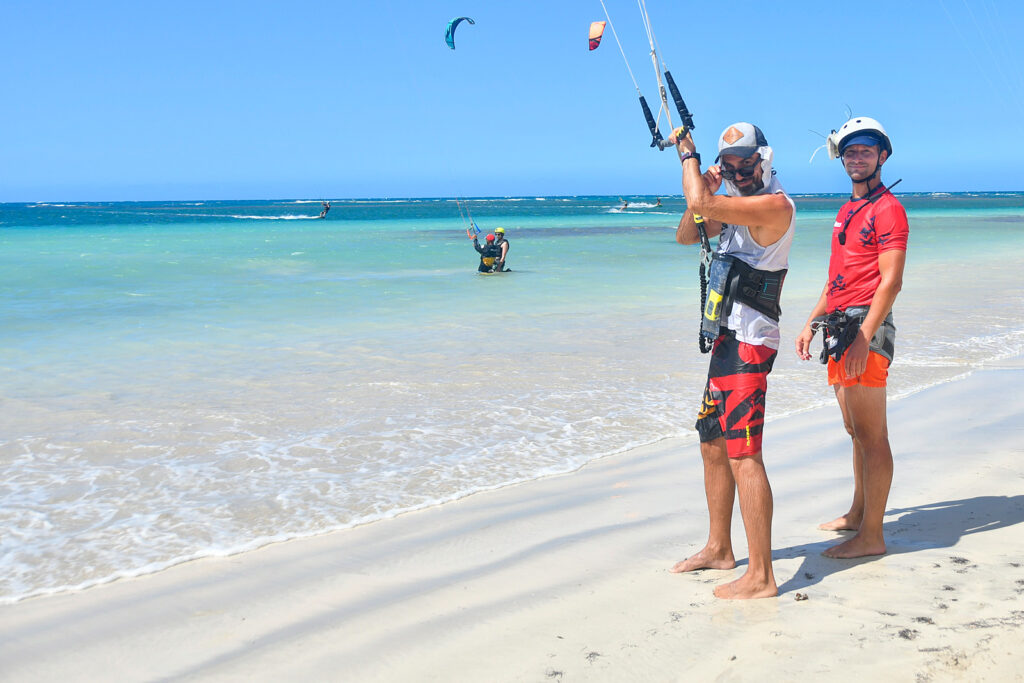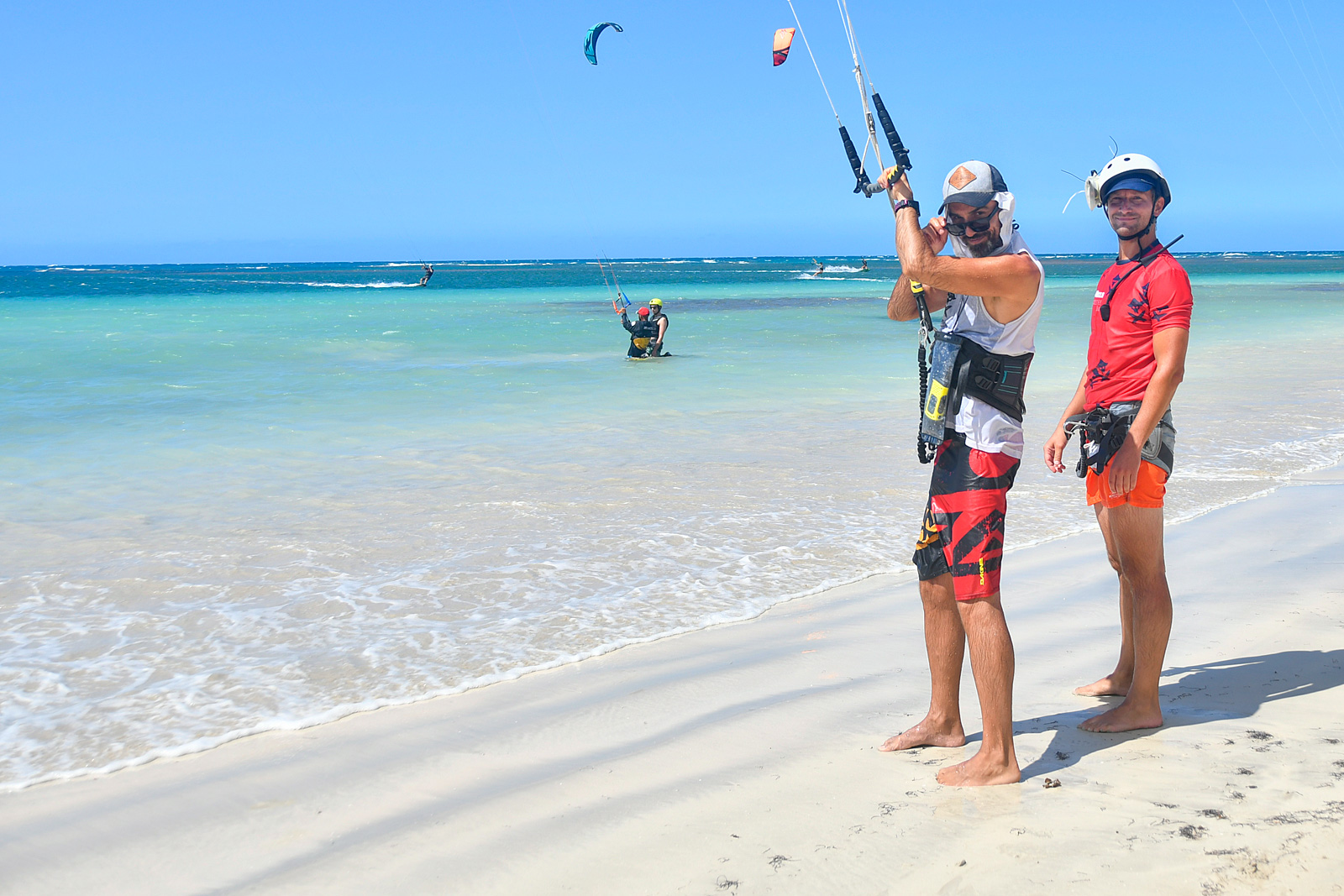 3 Stages of Kitesurfing Course for Beginners
Learning to kitesurf is divided into certain stages which correspond to the specific skills you acheive before you will get to the next level. As we wrote in the previous paragraph our trainings are a mix of best practices from various systems which has been adapted to the conditions prevailing in El Portillo lagoon. Kite Pirate is a three-level training system developed by our Chief Executive Pirate.
KITE PIRATES LEVEL 1
The aim of this stage is to become proficient in steering in a 4-line kite in the neutral zone of the Wind Window. The detailed elements to master are:
1. theory of WW, wind reading (direction, strength etc.), equipment set up, understanding of safety systems and its use.,
2. precise kite steering in the neutral zone of the Wind Window with two and one hand only,
3.  restarting the kite from the water, independent kite take off and landing, active use of safety systems.
KITE PIRATES LEVEL 2
After you have mastered all the elements of this level you will have your first tacks behind you and you can further develop your skills by yourself. The detailed elements to master are:
1. Body Drags – kite control in Power Zone (the kite drags the trainee on the water),
2. getting into foot straps, water start and riding both ways,
3. Self Rescue – what to when the sh#t hits the fan and the basics of the Law of the Way on the water.
KITE PIRATES LEVEL 3
The last level after which you will become a real, independent kitesurfer is mastering two skills:
1. riding upwind – thanks to which you return to the same place from which you started,
2. transitions – without getting your boardshorts wet
INSTRUCTORS CLASSES
Have you heard this joke: "What is the difference between a kite instructor and a student?
– 10 hours of training".
I know it's hard to believe but unfortunately such situations do happen. The extreme I encountered was an 'instructor' who did not know how to kitesurf yet! That is why we are introducing (probably the first in the industry) INSTRUCTORS CLASSES. Depending on your expectations and budget you can choose a coach with a different level of experience.
GOLD STANDARD
Our mission is the HIGHEST QUALITY only. Therefore people employed in Kite Mecca must have at least 3 years of experience in training in various conditions. This is slightly more than the average you will meet in most kite schools in the world – for us it is the basic. 
If you like premium service we recommend classes with someone who knows how to deal with any situation that can happen on the water. Only instructors from this group (or higher) can conduct lesson for advanced riders and teach children. 
LEAGUE OF LEGENDS
People with this level of experience are a small fraction of all instructors in the world. Such a person knows and survived practically everything on kite. They are living legends. Advanced training and training for children are conducted only by Premium Class and League of Legends instructors.
Individual classes and/or Packages
Kitesurfing courses for beginners can be purchased in two systems one of which is more flexible and the other more economical (* detailed information are included in the Course Regulations).
Individual lessons
If you care about time flexibility, you want to arrange classes overnight and do not commit yourself to anything this is an option for you. In this variant you buy every single lesson individually.
ADVANTAGES:
– you pay only for what you done,
– you have priority in determining the schedule of classes,
– you can cancel scheduled classes.
* Find more information in our Course Regulations.
Packages
Kitesurfing is not a cheap sport. Training is a considerable expense for many people. For those who look for discounts we suggest purchasing training courses in suitable Packages.
ADVANTAGES:
– discounts up to 15%,
– you do not have to care about anything – the Office will plan a training schedule for you.
DISADVANTAGES:
– if you do not use the lessons purchased in the Package you will receive a voucher that you can use by visiting us next time,
– canceling classes only possible in the case of illness and other important events.

* Find more information in our Course Regulations.